I hope that in this year to come, you make mistakes.
Because if you are making mistakes, then you are making new things, trying new things, learning, living, pushing yourself, changing yourself, changing your world. You're doing things you've never done before, and more importantly, you're Doing Something.
So that's my wish for you, and all of us, and my wish for myself. Make New Mistakes. Make glorious, amazing mistakes. Make mistakes nobody's ever made before. Don't freeze, don't stop, don't worry that it isn't good enough, or it isn't perfect, whatever it is: art or love or work or family or life.
Whatever it is you're scared of doing, Do it.
Make your mistakes, next year and forever.
~  Neil Gaiman
[divider style="shadow"]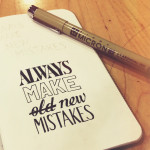 2014 is upon us.  To all of you who have welcomed us into your lives and made small, medium, and enormous shifts towards joy and appreciation, thank you. Without your trust and support we could not introduce you to the glorious creative human beings that you are. You move and inspire us!
To those of you who have yet to coach with us, there is an immense possibly of love, laughter, power, and peace as we journey through and beyond divorce together. While the journey is undeniably painful, we'll show you how to make it worth it's while.
Thanks to "all that is" for the opportunities for aliveness now and in the New Year!
Find out if coaching is right for you.  Take a quick survey and see if you are ready to make a positive and lasting change in your life.  Click here to begin.